Click these country names to scroll down faster...

Canada
.
U.S.A.
.
Kenya
.
France
Egypt
.
England
.
The Netherlands
Mexico
.
Taiwan
.
Thailand
China
.
Costa Rica
To return to these headings,
click on the country flag pictures or the 'back to top' buttons.
I've got The Bug. The
Travel Bug
, that is [otherwise germ-free]. Nearly half my life has been spent waiting to go somewhere or experience things outside of everyday, routine existence. I've always had a strong aversion to simply 'going through the motions' in life, as life is short - and the time you have to physically explore it is even shorter!
Sometimes, it's nice to regroup back 'home' in Canada, gather thoughts and resources, and contemplate the 'next move'. However, it can get all too cozy when you get dug-in back home and for me at least, once that "coziness" wears off, it's replaced by a strong fear of home-bound paralysis.
Ok, it's not as dire as all that, but I guess I learned early that behind my T.V. --- there's a wall. All those Discovery shows, etc. happen (mostly) in REAL places, outside of your house; outside of your country; sometimes outside of your 'comfort zone'.
Now, don't get me wrong, I love T.V.
My imagination is as strong as the next geeks'... but that "wall behind the T.V. set" thing really started frustrating me at an early age, and I felt compelled to venture out of the 'aspect ratio' we are ubiquitously provided with. And hey, there's a shit-load of stuff out there that you'll NEVER see on T.V. - ever - even if you watch constantly for the rest of your lazy days.
Now that I've got
The Bug
, it is compelling me to consume ALL 5 senses, in real-time and space, in as many real and wonderful places as I possibly can. Below, I'll try to infect you as best I can. Trust me, it's totally worth it. ~L.
Go back to top
I suppose, since I come from Canada, the first "traveling" I did when I was younger... was here. I've been making the ~3hr. journey from Ottawa to 16 Island Lake, Quebec, since I was 9 months old. If that counts, cool. I've still 'traveled' there every year since and it is where I consider "Home" to be. Oh...
I guess I should mention that I used to swim competitively, and for 9 years I traveled all over Eastern Canada with the swim team N.K.B. (Nepean Kanata Barracudas)... from London Ontario, to Halifax, Nova Scotia.
I'll tell you all about my trip to B.C. in 2012 ... soon!!!
Next on the list, is the 'US' (or is it 'them'? or is it it?), where I've been many times...

As many a youth, in the 80s & 90s, I travelled with my grandparents to Walt Disney World a few times, mainly by bus, full of old people and large smelly men, fleeing the harsh cold that sometimes accompanies the month of March.

Old Orchard Beach, Maine:
My family would also occasionally head down to Old Orchard, Maine, every so often to visit an old friend of the family who lived by the beach there. We would eat at Wormwood's Restaurant, go to the L.L.Bean outlet place... and do other family-fun things.

Maine was really nice, and it gave me early realization that the word "Beach" did not always coincide with the word "Hot." I don't remember going barefoot or removing my super-cool bomber jacket for much of any of these trips. It was really pretty though. I remember that much. Those red ocean-worn wind fences still remind me of youthful adventure. Also, at night, it felt like that movie "The Lost Boys" was taking place somewhere down the way... not sure why... maybe the ferris wheel down the beach or something... but equally haunting.


Since those days, now long past, I have been to Arizona and Utah for swimming training camps. Luckily, or not, I broke my pinky-toe on a Utah lawn sprinkler... and ended up seeing more than just the pool. The healing hours found me hobbling through the Mormon Temple and around the Great Salt Lake. It was pretty easy to imagine where the ideas for the movie S.L.C. Punk came from: lightning, seagulls, polygamy... it's all there!

These pix were taken at the Grand Canyon, during the Arizona trip:
In 2012, Sasha and I drove back to Ottawa from B.C. Here's a map of our trip:
To save time, we dipped down into North Dakota, then headed through Minnesota and Wisconsin, before re-entering Canada via Sault Ste. Marie, Michigan. We camped in some interesting places, but mainly drove 8-hour days... so there's not much to say except: Road Trip!!
THE 2013 TENNESSEE ODYSSEY



In September, Sasha and I took a much-needed vacation and decided to drive down to Tennessee to see what we could see. We drove from Ottawa to Buffalo (NY), through Ohio and Kentucky, all the way to Memphis, Tennessee, before returning via Nashville (the "Music City"), West Virginia, Maryland, Pennsylvania, to home again. It was a 10-day whirlwind road trip and an incredible experience.

We had a lovely night in Buffalo, thanks to the kind Claspers. Then, we headed South to Cincinnati, where we located the building used as the fictional headquarters of TV's "WKRP in Cincinnati"



After that, we ventured to Kentucky and off the beaten path, only to discover... the fabulous Jim Beam distillery! What a great and random time that was. We did the full tour and sampled some of their
"special stock", bought a bottle of Knob Creek 9-year-old 'Small Batch, Single-Barrel' whiskey, and tasted our first near-Southern BBQ. A delicious side-road adventure you (obviously) cannot have when flying.

Our furthest stop was Memphis, Tennessee, a place we hadn't initially planned on visiting. It was, however, a main highlight of the trip due to the unique character of the city, the food, and the music.


MORE TO FOLLOW SOON... >>>



I'm sure there'll be many more visits to our 'neighbour to the South'...
... ....
KENYA:



I visited Kenya 3 times when I was a teenager. Each time was unique and interesting.

From the downtown Nairobi streets, full of lepers and glue-huffers, tragic side-effects of modernity, to the beautiful and dangerous plains and distant mountain peaks of the countryside, Kenya really has it all.

The three times I was there (with my grandparents twice, once with my mother), we witnessed an enormous herd of elephants (well over 50) descending a hill to cross the road in a steady stream directly perpendicular to the road we were on... a mere 20 feet from the headlights (wowza!) and another time, we had to wait a good 10 minutes for an enormous water buffalo to un-plant itself from the middle of the road. Trust me, you do NOT want to get one of those things mad - unless you happen to be riding in a some kind of tank... the only thing to do was to wait, or carve a new path through the bush around them. Wild times.

The Manse ("preacher's house") where my aunt and uncle lived, while working for U. of. T. and the church of E. Africa (respectively) was where we stayed for most of our visit(s). It was a walled and fenced-in property, a bungalow, with a good floor-plan, etc. The kitchen overlooked fields of some high-growing plant.

The interior of the house had a decent kitchen, 2 or 3 bedrooms, a living room, dining room, the usual. They even had TV, which was mostly Kenyan advertising... I distinctly remember a commercial with these children pointing into the toilet bowl, shouting "Mommy! What's that?!" in unison. Classic. I don't remember watching too much TV there in general. I think I had a book or two, definitely had my cassette-Walkman, and lets face it - you don't go traveling to sit at home in front of a screen that's in front of a wall. TV and movies, however, are great ways to explore a culture's reflection of itself... to see what their economy is focused on, what makes 'news,' and what the locals find interesting... but I guess we would just be too busy most days to sit down in front of it with all the "real stuff" just outside the door!

Speaking of outside the door, there was one tree in particular that caught my eye from outside the house. It was really tall and the branches didn't begin until a long way up. From below, it appeared to have a rather large nest of something. Could they be termites? Birds? I would check it for movement over the next few days, often with a neighbour boy who was around my age. We would not venture too far away from the house, but enough for me to somewhat grasp the situation of his people: living in red mud-and-cow-dung huts, with thatched roofs that seemed fine in the kiln-like heat of the day, but made me wonder how they withstood the rain and wind when it came. On the 3rd day, I finally asked him what exactly it was that lived "up in that tree over there." He didn't speak any English, and we rarely even made a sound while exploring the area, but he pointed up then made the international 'arm-squiggle' motion for "snake". I smiled... 'Oh--' I started to say... when in that same breath, a few nearly 3-foot snakes dropped out of the tree and writhed before us, shocked by the huge fall. Needless to say, the two of us didn't wait long to run like hell. It's kind of funny looking back at that day now...
[I'm writing this in Costa Rica, where I've just had another close encounter of the snake kind].


We were also taken to a tea plantation where I witnessed modern extravagance and near-slavery living out their parallel existence, and still in full-swing. It was one of the most awkward times I've had, and I still embrace and re
gret that sobering experience. There was this incredibly wealthy old woman, who had inherited the most overwhelmingly out-of-place mansion - complete with a room full of mounted animal heads - the full bit. The house overlooked her tea fields, full of African workers with the most uncomfortable-looking (and big) baskets strapped to their backs, picking tea and tossing it into the basket all day, under the blistering African Sun. Meanwhile, the woman explained that she "rarely met with the workers," or invited them up to the house for refreshments of any kind... while we discussed this over ice water and samples of the "top-quality" tea from her very own fields. To this day, I get an ill feeling remembering how the view from that house seemed to curdle the milk in that chai (tea)...


Happily, it wasn't all like that.

We stayed at many a 'resort-style', and 'non-resort-style' place over the three weeks [x3, over 3 years]. At one place, called The Ark I stayed up all night to see those things that come out in the darkness. They have this stone bunker you can hide in, just slightly below ground level, and wait with your camera until the animals stepped into the light (also, to access one of the few watering holes in the area - strategically located there, I presume). The whole thing was a genuine thrill, both majestic and captivating despite the brutal hyena vs. deer episode.

Other than the people, and the poverty, and their kindness, I naturally remember the animals we found in Kenya. Over those three visits, we checked-out many parks and resort-style birding/animal-watching places, not to mention all too common running-into-things-on-the-road encounters.



A few of these places stand out in my memory

:
Keep in mind, it is nearly 15 years ago now...

The Ark (Hotel) in Aberdare National Park, where I saw:
~Many Elephants, birds, meerkats, etc.
~Hyenas chasing, catching, and ripping apart some kind of deer-like thing in the middle of the night.
~A rhinoceros masturbating on a disturbingly well-worn rock...


Nakuru ~ The Maasai people - The Great Rift Valley

~The Good: Meeting the Maasai and playing with some of the kids my age, who found so much joy in their toys - consisting of clothes hangers with Coke cans at the end of them which they could roll in front of them and chase around. Really happy people.

~The Bad: While stopped to admire the majestic view of the Great Rift Valley, the presidential motorcade (of the day - you'll kn
ow who if you do the math), drove past at astonishing speed - for fear of assassination, I was told - and an unfortunately-timed bicycle driven by a Kenyan man crossed it's path. The man was killed instantly, and sent hurling into the ditch. Like so many times before and since, the crowd did nothing. I pleaded for an explanation, and was told that to take action was to take responsibility for the unknown body... something, it sadly seems, is all too commonly avoided in this often-selfish World.

~The Ugly: My grandfather, Gus, let one particular crusty-eyed Maasai man look into his video camera 'viewfinder,' and a few days later developed the grossest eye infection I've ever seen! Poor Gus... but he was a tough one.

Lake Nakuru National Park:
~
Stepping in "hippo-mud" by the edge of a river while trying to snap a photo of an amazingly large group of flamingos... When they flew away, the sky was PINK with their bodies and reflections.
Needless to say... I had to leave the shoe there.
"I lost my shoes in the bubbling ooze!"


Lake Turkana - Great Rift Valley - World's largest desert lake - volcanic rock
~ Dr. Leakey's fossils of the "earliest human remains" - "Lake Turkana has no outlet, and water is lost from the lake mainly by evaporation. The evaporation rate has been estimated at 2,335 mm yr-1."
(http://www.ilec.or.jp/database/afr/afr-20.html)
~ I remember thinking the little chunks of volcanic rock all over the place were really cool looking, like bubbles in the rocks had frozen upon popping... coooool... [nerd]


Other random memories I've just remembered... (more to come, perhaps):
~ Being licked by a giraffe while trying to take it's picture [above] - tastes like lemony-stench.
~ The bumpy ride of the Land Rover, that took us on a safari across plains and from which we could walk down to hidden waterfalls. Those trucks really do give you a feeling of safety in the wild, no matter how false that feeling may actually be.

I was lucky to get to go there, especially on three separate occasions.
Unfortunately, my amazement at certain things (like the taste of unpasteurized milk, poverty, the absurd tea-plantation) were mistaken as ingratitude by my aunt, souring much of what was certainly a "once-in-a-lifetime" experience.
Ya can't please 'em all... but ESPECIALLY if 'they' happen to be family! Oh well...

On we go to...
FRANCE:
My knowledge of France, extends not much further than Paris and all those wacky philosophers. I visited Paris on my way to Kenya, Africa, for a week-and-a-half when I was around 14 years old.

I did, however, take lots of pictures and ask a lot of questions while I was there with my grandparents. My grandfather had deep roots in France. His last (and one of my middle) names is "Chalin," (Sha-laen) which I'm told is further derived from the Welsh approximation of "Chaplin" [a story for another time, perhaps]. The French Chalins made quite a mark in Jolliete, Québec, and my great-grandfather (possibly my great-great grandfather) Henri Chalin was honoured with having the central boulevard in Jolliete named after him. And, of course, without Henri there would be no Gus. Without Gus, there would be no Mom... so clearly I owe the French a debt of gratitude.

What do I remember from when I was 13 or 14? Lots of cobble-stones to trip on, immaculate hotel rooms, people making out on the Metro platform (pretty hot & heavy, even for adult eyes!), and a general "Frenchness" in the air. We did pretty much all you could typically do there, and found a few specific plaques (located on many street corners around the city) that said things about the "Chalin" side of my family. I would gladly return one day.


It's beautiful in Paris...
full of some kind of atmosphere that makes your breath thick and eyes stare with wild wonder.


Go back to top
ENGLAND: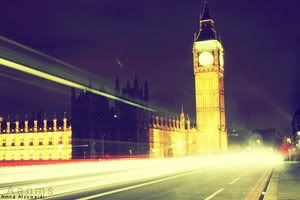 Cobblestones... Continental Breakfasts... a whirlwind of landmark touring... The smell of wax...
...and more!


February 7, 2012: I just found an old notebook that I used as a travel journal on my first adventure to Kenya!
Since the first few days of that adventure took place in London, I thought I'd transcribe my 12-year-old self, word-for-word, here:
(I still can't explain why I made note of the time difference, or why I felt the need to doubley mention the date)

8:30AM (CAN) 12:30PM (ENG) March 11 93-03-11
After we got on the plane last night, we flew for about three hours and I fell asleep. When
I awoke it was a quarter to eight in the morning in England, but it was three o'clock in the
morning in Canada, so I went back to sleep. I missed dinner and a movie and was greatly
disappointed that breakfast was only a roll, muffin, juice and a choice of tea or coffee.
When we got to the Heathrow airport at ten o'clock in the morning, Gus and I got lost, so we
went to an information desk and found our way to a double-decker bus that helped people get
from the airport to wherever they wanted to go. We got off at Russell Square and went to the
President Hotel.

4:30PM (CAN) 8:35PM (ENG) March 11 93-03-11
After checking into the President Hotel in Russell Square, Gus and I went for a walk. We
came across Madame Tussauds' Wax Museum. When we went in, we saw a sculpture of Arnold
(I couldn't spell his last name) and got our picture taken with him. We went into a room full
of sports heros and then to a ballroom where the royal family was presented. Then we went to
where most of the presidents were. We went downstairs to the dungeon was, we saw all the
torture machines and a paperboy who said "read all about it, Jack the Ripper strikes again!"

4:20AM (CAN) 8:20PM (ENG) March 12 93-03-12
Today, after breakfast, we took a 91 bus to Trafalgar Square where we saw the Nelson
Monument. From there we walked down the mall, past the residence of the Queen Mother to
Queen Victoria's monument, which was in front of Buckingham Palace. After watching the
guards for a while, we went to Westminster Abbey, which was full of history. After that, we
went back to Trafalger Square and took the 91 back to the President Hotel.

5:13PM (CAN) 9:13PM (ENG) March 13 93-03-13
Today we got up early to see the changing of the guards at 11:00AM. We took the no.91 bus to
Buckingham Palace and walked down the mall again. We got there on time, but the policeman
(Bobby) said that it started at 11:30AM. So we waited for a half an hour and it finally
started. After it had finished, we took the no.15 bus to the London Tower Bridge castle,
where Anne Boleyn was beheaded by order of King henry VIII. In the Fortress, we visited the
Queen's house, and the Bloody tower which was named because of all the murders that took
place there. We went to the Belltower, Wakefeild Tower, the History Gallery, the Lanthorn
Tower, the Salt Tower, Armouries & the New Armouries, the Broad Arrow Tower, the Royal
Fusiliers Museum, the Brass Mount, the Martin Tower, the Buck Tower, the Bowyer Tower,
Watterloo Block, Flint Tower, the Chapel of St. Peter Ad Vincula, Devereux Tower, Legge's
Mount, and Queen Elizabeth's Walk. And after that, we took the Tube (Subway) to Russell
Square. Tomorrow we are going to Kenya.
EGYPT:



I have descended the steps within the mighty pyramids, inhaling the overwhelming odor of...

tourists? (Is that what that smell is?)

Once you get to the bottom of the cramped staircase, you arrive at... an empty tomb. All the good stuff must be at the British Museum. God, tourists smell. Giza though, was a really neat place to walk around. The Sphinx was cool... and if I'd camped out between its front paws, it might have asked me the age-old riddle: "What walks on 4 legs in the morning, 2 legs in the afternoon, and 3 legs at night?" Do you know?
I think Egypt is one of those places where you need to live for a few years in order to better understand it's true-er history and culture. I guess another way might be to take some kind of "classics" course... but you'll still get lost when you get there.

I went to Egypt with my Mom when I was around 14, and on the way to Kenya for the 3rd time. We had just over a week to see what we could see there - which was really not enough. Our 'home-base' for that time was Cairo Sheraton hotel, in ... not Cairo, but Giza (across the Nile). The room was really high up, which was great, because modern Egyptians seem to ride their car horns more than anywhere I've been in the World. True story.

We went to the British Museum, took a private sailboat ride down that stretch of the Nile (the security guard from the hotel seemed to fancy my mother and invited us), visited the Mohamed Ali Mosque ("Aaaalaaaaah!"), and saw all the alabaster stone I'll ever really have to see in order to understand that if you put a flashlight up to it, it becomes illuminated... (but that's still pretty nifty).

Then, something even cooler than all that happened... the bellhop and concierge of the hotel were good buddies and wanted more than anything to take us with them to visit their family. This equated to trips in an old beat-up white Mercedes to places like Alexandria (Cleopatra's digs) where me and my Mom ate fried fish - heads and all - down some back alley ("and now... we're gonna die." ~Me.).


... I will finish this later, when I find the time...


please stay tuned!
The Netherlands: AMSTERDAM:
Amsterdam is an interesting city.
The name "Amsterdam" comes from the river "Amstel" and the "Dam" that was built, in order to divert the water that used to cover its place of existence.... Amsterdam is one of the World's largest 'land-reclamation' projects. A quarter of the Netherlands is still below Sea level - did you already know that???
Any Google-search about the place will getcha plenty of pictures, maps, etc. of what the area looked like before and after the beginning of the 13th century (1200s). This one is not only cool looking, but somewhat educational as well:
It's the "Nominal Capital" of the Netherlands (The Government Capital is in The Hague), because it's the country's largest city and has recently become famous for the nearly 300 cafes that legally offer 5 grams of weed (marijuana) to their customers.

Amsterdam has approx. 300,000 more bicycles on the streets than people in their phone book.

And... another weird thing about Amsterdam is that its' people are apparently "the tallest in Europe" (source unknown -check!)

...


Although the city holds the largest collection of Van Gogh paintings, the largest number of original old-school windmills, and the fact that it's supposed to have the most museums in the World (in one city), sadly...

THIS IS ROUGHLY ALL I SAW THERE: THE AIRPORT.
(NOT SHOWN: THE HIGHWAY VIEW WE TOOK FROM THE AIRPORT TO THE HOTEL)
We were connecting to Egypt, I think... and couldn't stay long enough to see anything of interest. Bummer dude.
The Moral of the Story: I'll have to go back there someday. Someday soon! If Global warming persists, and the Atlantic Ocean water-level rises mere feet, the majority of Amsterdam will be under the North Sea again!!! Also, true story.



MEXICO: CANCUN

My "Y2K" high school anti-grad trip, consisting of me and six friends...

I'm trying to remember things like:

- Friends I have regretfully not spoken to recently enough...
- Tourists...

- The accidental Hotel change (our planned 3-star hotel was closed when we arrived)

...which led to:
~ An equally-priced stay at the 5-star luxury hotel (The Royal Solaris)!
~ Swim-up bar(s)...
~ Learning dirty Spanish words...

~ 24hr. Hamburgers / Hot-Dogs...
~ "Mysteriously" plugged toilets...
~ Sailboarding with alligators...

- And the "real" Cancun - away from the beach...
~Visiting the Mayan temple at Chichen Itza...
~ Dining in a restaurant that was a sequence of tents...
- this involved some sort of head-balancing act with Coca-Colas if I remember correctly...
Here's a picture I took of Chichen Itza:

There was drinking... and *some* dancing... I think.

The rest is a blur, ending with a hangover.

Either way, I finished High School... went to Carleton for 6 years, earned an B.A. in History / m. Philosophy... worked at a music [instrument] store...
...started a band... etc etc etc.

Later: got depressed from a strong "lost in life" vibe... and moved to...


TAIWAN:

R.O.C.(?)
Shortly after my Ottawa band, "Rocket Surgery," (not the New York prog-rockers with the same name - we were first!), played our 1st and only 'real' show (other than my sister's wedding), I packed-up my stuff and took my very last $1000 to the "Far-East" with hopes of adding to my small and worrisome fortune.

Actually, I simply couldn't find a job in Ottawa, and Dixie Lee fried chicken just wasn't payin' the bills. It's a damn shame the music store I managed went broke while I was finishing University, that was a job I both enjoyed AND which funded my lifestyle at the time.... Anyway, holy crap I'm digressing...

It was January...



I left Ottawa in a snowy haze. It disappeared from view quickly and soon I was flying high over the clouds. I think I whispered my goodbyes (or maybe they were silent) and the world I'd known was left below.

As we sailed over the cloud cover, the morning Sun appeared. The rolling hills of air and water glided easily below me. Faint traces of the hidden weather above my home reminded me of the many layers left to discover under the surface of my journey.

I scribbled this on a Japan Airlines napkin I had with me a week after arriving:

Touchdown - hit ground
Hear a sound - turn around
Catch phrase - in a daze
Growing maze - still stays
Earth quake - I sway
Straying from the sharp repeat.


My priorities, upon arriving at my sister's apartment, were as follows:
- To get a cell phone (which I was given - thanks!)
- To buy some t-shirts, because I had left in the winter and thought I was going to a warm country. Comparatively, it was warm... however, it was also winter there, which meant sweater weather for the locals. You would not believe how difficult it was for me to find a t-shirt in Taiwan in January!
- To buy a camera, computer and a guitar (this took about 3 months of hard work, but was accomplished)
- To find an apartment of my own. Luckily, someone at the school my sister worked at was moving shortly after I arrived and I took on their space. It was pretty dirty, what with their two kids' fingerprints and the excessive smoking indoors, but I managed to clean and paint everything worth doing and moved in after a few weeks of arriving.

Almost immediately, I found my way around the town of Nankan (near Taoyuan and close to Taipei), where we lived. My sister and her husband took me on a special trip all the way down to Kunming in the South. We traveled down the West coast of the island with a kind of Buddhist 'congregation,' intent on stopping at all the major or significant Buddist temples on the way. It was a tremendous opportunity to see the country and gauge the religious tone of the people. You find these temples nearly everywhere! From the enormous and statuesque to the converted storefront. We even spent one night in the monks' dormitory, and I'll never forget the smell of sandalwood incense and burning 'ghost money' (burned, so it might travel to their ancestors in the afterlife). It was incredibly fascinating, and a great early start to my acculturation. I took a few photos of this mini trip, but Facebook didn't exist yet (and I didn't have a computer), so you probably haven't seen them.

From this point on, the days seemed to fly by. I got into the routine of preparing a teaching plan for the elementary school I worked at, teaching the classes, finding food that I could pronounce, and getting home to mark homework and pass out in order to do it all the next day.



Aside from the everyday teaching English in Taiwan stuff, I made friends with many of my neighbours and had the added benefit of knowing Jessie Tsai, who was a friend of my sister. Jessie, through her English-speaking and otherwise amazing friend Monica Chow, told me a lot about the area I lived in and was very kind in offering to take me along on trips all around the Northern part of Taiwan. She and her family were nice enough to take me to places like Hualien, on the East coast of the island, which is possibly the most beautiful 'province' in Taiwan. We got there by way of the North-East coast (places like Taipei and Ilan), and returned though the beautiful foggy mountains of Nantou. A family car is luxury compared to a tour bus or taxi, and I probably have the most vivid memories of the entire trip due to this. I must say, to get to know a country is best done by getting to know the local people as though they are family. The Tsais treated me like family, and so I learned a great deal from them and other people in their lives.

Monica Chow was an indispensable aid to my understanding, and reminded me about the value of bilingualism. She bridged the gap between those who were eager to help me settle-in and other people I might have otherwise had difficulty with (landlords, store owners, etc.). She and Jessie also taught be how to play Mahjong and the three of us, with Monica's niece, Juliet, often played the game. I rarely won, but it was fantastic fun.



I could go on and on about the people I met in Taiwan and how nice they were. After beginning to branch out on my own, tutoring English and teaching guitar to local high school kids and FedEx employees, I found great joy in conversing with my students' parents about a variety of things Asian that were interesting to me. With Vincent, James' father, I discussed the mysterious Wu Xing (or "Five Phases/shifts"). With his mother, I discussed law and local police matters. I would often find myself still drinking tea with them into the afternoon, long after my 10am guitar lesson with their son had ended.



In a different building in the complex where I lived, there was also Daniel and his wife Beth, who repeatedly asked me to join them on trips around. Selfless and kind, we took trains and went places I'm certain most English teachers rarely get to visit.



I think that's the best thing about Taiwan: the smallness of the country, like a big small town, and the desire for the people to show off their home to a stranger and friend. After a while it reminded me about the best parts of Ottawa. I don't mean to get too cheesy here, but I was honestly touched and marked with a renewed love of humankind.

If you want to kill your cynicism - travel and make friends!


I met Sasha in Taiwan, towards the end of my journey. I was beginning to feel a bit 'burned-out' again and Sasha took me out to mingle with the other 'ex-pats' in the area. We went to some interesting clubs, some like the kind you see in movies (that place is real sometimes!) and I began hanging out with a motley crew of English teachers, musicians, and independent business people - realizing a lot of us were in the same boat and just dealing with it slightly differently. This relaxed me for a while, but soon I felt the overwhelming work schedule getting out of control again and knew it was time to pack it in. Sasha was leaving, having already spent five tumultuous years in the country, and I just went with my gut in asking to join her. We went on a vacation to Thailand and said goodbye in Bangkok, where she went on to tour and visit Laos, while I returned to take on her old teaching job for a few more months, in order to pay my own way on our future adventures together.



The last months in Taiwan were difficult for me, with feelings like I had just arrived mixing with those of a welcome outstayed. I longed to continue my travels and not get stuck in a rut like the one I left back in Canada. At the same time I felt like I had only scratched the surface of what the country had to offer (and the experience as a whole), and would sincerely miss the friends and 'family' I had made during my stay. My students had become my buddies, and hadn't even set the GuZheng I bought there in tune before heading home.


Despite these things, I saved and saved and took off for mainland China just as the school semester was winding down. The last few days are still like a blur, with so much left unsaid and undone. With a huge mess waiting for the garbage crews at the elevator on my floor, I caught a taxi to the airport with only two suitcases (a few boxes would be shipped later, with heavy books and random-yet-meaningful knickknacks). I got to the airport and felt like a dream was ending. As I took off for Hong Kong, all I could think about were the clouds that the plane hovered above, just like the ones I noticed a year earlier. Taiwan is still a dream - come true and past.



Random T-Shirt (on display) at TaiMall, Nankan, Taiwan R.O.C.

THAILAND:
Thailand is a wonderful country. The weather is hot and humid in Bangkok, but the accommodations are cheap (if you're adventurous), and there's usually a fan in the room. :)
I've been to Thailand three times now, and each time it seemed new and interesting. I guess, since it's mostly geared towards tourists, your options for entertainment / exploration are pretty limitless.
My favourite place in Thailand was the little island of Koh Chang, South-West of Bangkok by about 5-7 hours (I fell asleep on the bus, sorry!) and at first it felt like we had just sold our lives away to some dirty man in a Khao San Road travel agency. Once we arrived at the dock somewhere near Laem Ngop, and boarded the ferry to the small island paradise, I felt a *bit* better... It was a beautiful boat ride as the sun rose and the land came clearer and clearer. We landed, and waited around for one of the few pickup trucks that cycle around the island (there is only one road that does not actually go all the way around the island - the old, 'stop and turn around' thing happens). Finally, after much complaining by some fellow tourists and patience on the part of some cooler ones (ourselves included, a-hem-hem..) we made our way to the first of three 'hotels' that we stayed at on the island...
Upon my second visit with Sasha, we arrived around the time of a religious-type day of celebration (the name of which escapes me now) and were invited to visit many temples and sacred places that 'foreigners' don't often get to see - or so they told us. Either way, it was very fascinating and another adventure to tack on the list...

I thoroughly recommend Thailand to those intent on discovery. Spend a day or two in Bangkok, but be sure to get out to the surrounding areas, the forested North, and the Southern beaches (and everywhere in between). You will probably not be disappointed. The whole country makes you feel like you're the first person to see it all since ancient days... enjoy!



CHINA:



After a few more months of saving money in Taiwan, I headed to China, via Hong Kong, to reunite with Sasha in the city of Kunming, Yunnan Provence.


We traveled from Kunming, "the City of Eternal Springtime," to Dali, to LiJiang, to Tiger Leaping Gorge, to ShanGeLiLa (not the 'real' Shangri-La), near the Tibetan border. We then took a train North-East to ChengDu, in the SiChuan (Si=4, Chuan=River) Province. After nearly a month, we caught a plane back to Thailand, before returning to Canada, via Taiwan & Japan &, in my case, Chicago.
I will regale you with more recollections at a later time...
For now:
HERE ARE A FEW
MOVIES of...

This one time, we were just walking down
Giant Buddha
, ChengDu, China
the street in
LiJiang, China
, when... "World's Largest" Buddha Mountain carving
This little girl started
spinning by her mouth
This thing
actually
changed the flow of
on the sidewalk for money: one of the most powerful rivers!
I hope her busking profits
go towards future dental care...

ChengDu, China, WWF Panda compound:
This was one of many Giant Pandas we saw,
munchin' away at bamboo... This one was taken at the
Yes, this is the very same panda reserve Middle Tiger Leaping Gorge (Yunnan Prov., China)
that was nearly destroyed during that huge Earthquake The Yangtze River cuts right through the mountain
...poor sweet pandas...

Now that's some powerful chocolate milk!

COSTA RICA:

Awesome. Delicious. Terrifying... and their flag seems to be the opposite colour scheme of Thailand's flag. Enh? Enh.
But I've really got to get some sleep, so I'll write more soon! Promise!
For now...
Here's a special movie about the day And here I am, driving cattle during our
we released baby Olive Ridley "Cowboy for a Day" adventure
(Giant) Sea Turtles into the Pacific at Rancho La Merced.
Ocean at Hacienda Baru, Dominical,Nov.13.08: They really did tell me to "moo" at the cows....